Enrol for Compressed Gases Safety E-Learning
Interactive & engaging e-Learning course on compressed gases safety.  Suitable for those who are involved in using, handling or purchasing pressurised cylinders.
The course takes approximately 90 minutes to complete. Learners can pause and resume training at any time
The aim of the course is to provide users of compressed gases, and those working with cylinders the information required to enable compressed gases to be used in a safe and healthy manner.
Individual purchase for you
Purchase on behalf of others
from £55
per learner. (Subject to VAT)
Approximate Timing:
Compressed gases safety e-Learning should take approximately 1.5 hours to complete.
Learners can leave and return to the course if required.
On completion learners will have an understanding of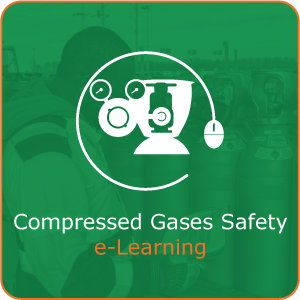 About this e-Learning course
Compressed Gases Safety E-Learning Course in a nutshell:
Compressed Gases Safety e-learning should take approximately 1.5 hrs to complete.
Compatible with all devices.
Delivered as a narrated slide presentation with video & quizzes to test knowledge and keep the learner engaged.
Individuals are able to stop and resume a course at their convenience.
To receive a certificate of training learners must successfully answer a final multiple choice quiz:
A pass rate of 80% is required to receive a certificate of training.
Learners have 2 attempts at the final quiz, they may review a module freely should they fail the test on the first occasion.
After a second failed test the full module must be reviewed before taking the test again.